< Back to Articles
British Engines improves infection control with the Agrippa door holder and closer
Posted on November 4, 2020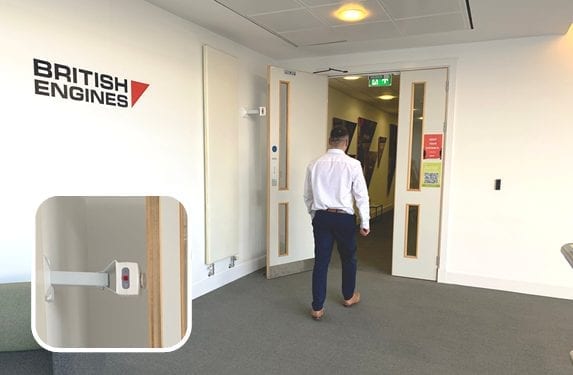 Engineering giant, British Engines, has installed Agrippa's range of door holding products across its eight sites within the North East.
The Agrippa products have been fitted to internal doors across the group made up of over 1,200 people.  The Agrippa door holder and closer have been installed within the offices manufacturing facilities to prevent door handle contact and ensure fire safety compliance.
Andy Walton, Head of HSE, at British Engines said: "The busy nature of our business means that our internal doors are often subject to a high level of use, making them a critical risk area for the spread of infection. As the holder retains the door tightly against the wall, we have found that this has helped with social distancing by improving visibility and increasing the space available to move around the site".
Used to compliantly hold open fire doors, the Agrippa range of products record the sound of a building's fire alarm and upon hearing the sound automatically close doors to prevent the spread of fire and smoke.
Learn how holding open doors can help prevent the spread of COVID-19.
< Back to Articles