Fire Safety in Care Homes
Whatever healthcare setting you work in, a care home, hospital, doctors surgery Geofire can help you with your fire door safety needs.
There are many reasons fire doors are held open in care buildings, however, wedging a fire door open is removing critical fire suppression equipment which stops the spread of smoke, toxic fumes and fire.  Compliance with fire safety can be achieved in this situation with a fire door holder or hold-open closer which will close the fire door in the event of a fire. Fire door holding devices stop members of staff and residents wedging open the fire doors illegally.
Why hold fire doors open?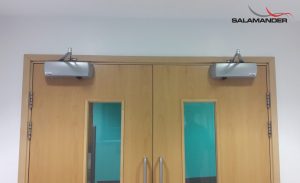 Reduce door handle contact, increase ventilation and improve social distancing to prevent the spread of germs
Improve access through corridors for trolleys, wheelchairs and equipment.
Make heavy and cumbersome fire doors feel lightweight and easy to open for young, frail or older patients.
Reduce the feeling of isolation from closed bedroom doors.
Reduce the risk of injury from heavy fire doors closing too quickly trapping fingers or pushing people over.
Benefits of installing wire-free fire safety systems?
Remove the danger of fire doors being wedged open.
Compliance with fire regulations.
Cost effective compared to hard wiring as no cabling required or installation by a fire alarm professional.
Hygienic as devices are off the floor.
No disturbance to the fabric of the building.
Reduced maintenance costs as well as providing the highest level of fire door security and control to protect staff, residents and visitors (Salamander radio controlled system).
Works with a voice fire alarm (Salamander radio controlled system).
Compare the features of our wire-free options here > Wire free door holder comparison