< Back to Articles
Fire Door Safety Week 2018 at Geofire
Posted on September 24, 2018
It's Fire Door Safety Week 2018 and Geofire are supporting the awareness campaign and encouraging property managers to consider wire-free fire door devices as a safe and compliant way to hold open fire doors.
Since 2012, Fire Door Safety Week has been highlighting the critical and lifesaving role of fire doors. Owners and building managers are reminded how and when to check the operation and condition of their fire doors to ensure they work correctly and are not obstructed from closing in the event of a fire. Without regular inspections and maintenance it is likely that fire doors will not comply with regulations, which places property and lives at risk.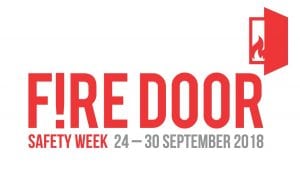 Three million fire doors are installed every year in the UK, many of which need to be kept open for accessibility, ventilation and safety purposes depending on the building use. However, in order for these fire doors to work, they must be in good working condition and they must close in the event of a fire. Without fire door maintenance and safety devices, there will be a risk to life as any fire, toxic fumes and smoke can easily spread through the building.
Agrippa and Salamander are innovative brands designed and manufactured by Geofire, which has been manufacturing from its County Durham base since 1972. Their range of fire door holding and closing devices use intelligent electro-magnetic technology and includes hard-wired, radio controlled and acoustic solutions, which are all recognised by the UK fire brigade.
Andy Collinson, CEO of Geofire reinforces the Fire Door Safety Week key messages, "Using wedges or props to hold open fire doors can kill occupants in the event of a fire. Ease of movement is necessary in many sectors such as the NHS, education and residential homes, so compliant and safe fire door holders and closers should be used to solve this issue. Increased ventilation is also necessary in older buildings and during warm and humid weather conditions.
"Geofire has solutions for all sectors, buildings and installations that are legally compliant and we urge building owners and managers to act now. Each individual fire door should have a health and safety risk assessment completed and the category of fire safety devices should be addressed to ensure that they meet the needs of the building users while keeping safety paramount.
"We manufacture a large range of electromagnetic holders and 'swing free' closers suitable for all building types. Our industry leading hard-wired options, radio controlled Salamander and acoustic Agrippa products have been fitted in buildings across the UK and Europe.
Visit Geofire's Twitter and Facebook feeds to enter our Fire Door Safety Week competition to win a NEW 4K Kindle Fire Stick, £10 Costa Voucher and Agrippa fire door holder.
Read the terms and conditions of our competition,
< Back to Articles