< Back to Articles
Opening the door to fire risk solutions at heritage sites
Posted on October 5, 2015
Fire is without doubt the greatest threat for heritage buildings, since only fire can destroy the entire fabric of a building, its precious artifacts and cultural resources, with flood coming a close second.
As of 2012 there were approximately 375,588 listed buildings in England.  Accurate fire statistics for historic buildings are a problematic area, and the exact scale of loss to the built heritage as a result of fire is not fully quantified, though it is known to be significant.
As an example, collated data from a variety of sources indicate that in the UK, between January 2002 and June 2006, almost four hundred separate incidents involving fires in historic buildings were recorded. Historic buildings are vulnerable to fire, particularly those in multiple occupation, and fire is a threat to both human life and our architectural heritage.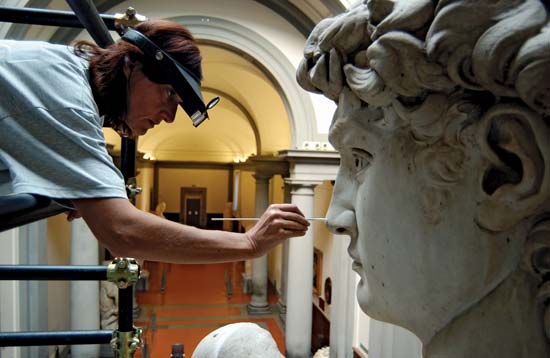 The conservation dilemma
Regrettably, the very character of historic buildings – often places of public assembly – draws our attention to the crux of the problem for conservationists. Open volume interiors on a grand scale, such as reception chambers and vast staircases, resist the usual fire safety solutions delivered by improved fire zone compartmentilisation .
Paradoxically, in some cases, enhanced compartmentalisation can actually be counterproductive in safeguarding an historic building, with upgrades such as fire barriers often having a damaging effect on the microclimate of a building, upsetting a stable system and allowing the growth of moulds, fungi and rot.
In addition, since the more customary point-type fire detection is generally suitable only for use in areas where the ceiling height is below 10.5 metres, other modes of detection need to be sought to provide the combination of reliability and coverage in order to protect against fire hazards in larger open volume interiors.
For example, it in a fact that many of our historic buildings have ornate beamed ceilings and, if the British Standard was rigidly followed, there would be an excessive number of detectors in interiors with this feature, with a consequent marring of the architectural effects of interest.
The diligent stewardship of heritage buildings to minimise fabric damage can also determine the specification of fire protection solutions, especially in vulnerable fragile interiors with detailed cornices where traditional wired installations may be unacceptable or uneconomic.
Conservation demands minimal interference to structure and fabric and, as a consequence, places considerable emphasis on high standards of risk management and early detection of fire. Of these techniques, wireless transmitting fire detectors and beam detectors communicating to AFDs (automatic fire detection and alarm) systems are particularly suited to meet the special challenges of heritage buildings.
The introduction of conventional fire doors and partitions can also have a disastrous effect on a building's character and historic interest. Risk assessment and the development of a strategic approach to fire safety measures can lead to more sympathetic solutions in keeping with period architectural style.
While modern buildings are designed from the outset to allow the occupants to leave quickly and easily in the event of a fire, adapting an historic building is more difficult. Two primary factors must be considered: the protection of persons either living, working or visiting the premises; and the protection of the building fabric and its contents. If the building concerned is also open to the visiting public, the requirement for life safety measures is a burden of responsibility that becomes even greater.
Wire-free is the dream solution
As a distinguished expert in historic building refurbishment, and specialist restorer of a Grade 2* listed building, recently remarked: 'A wireless system is the dream solution.' As the expert points out, by eliminating the need to run cables to each system device, a wire-free installation is minimally disruptive to existing decor.
In fact, plans to upgrade fire detection equipment in heritage buildings can even be halted because of wiring challenges created by ceilings of marble or walls of stone where the thickness defeats drilling or makes running wires difficult.
Asbestos too, widely used in construction until as recently as the 1980s, is now known to be a material that can be hazardous to health if not handled and controlled in the correct way. In fact, asbestos is still responsible for over 5,000 deaths every year. The Control of Asbestos Regulations 2012 describes the management of asbestos as a process which requires a risk assessment of a planned installation and the work to be carried out by specialists if material will be disturbed, both of which are potentially costly.
Access for all?
Whilst it may seem counter-intuitive, legally keeping large heavy doors open can offer heritage buildings clear benefits, such as ensuring full compliance with equality legislation without compromising health and safety strategies; and there are security reasons, too, enabling staff to easily monitor spaces for theft and vandalism.
The constant battering fire doors receive in buildings from staff and visitors, including wheelchairs or trolleys can damage hinges and edge seals, often rendering them unfit for their intended purpose. Keeping fire doors held open with properly installed and accredited hold-open devices during non-emergency times is one way to help ensure that they remain in working order once they have been installed.
Keeping the doors open improves ventilation, reduces wear and tear of doors, and can reduce long-term maintenance costs.
Traditional wired-in fire door holder and closer systems are expensive to install and their installation will often cause major disruption to a building and occupants. Free from the requirement to run long cables through a building and all the disruption that goes with it, a wireless installation is much faster to install and non-invasive, and can even be installed with the building in full use.
Radio controlled fire door safety products are perfect for locations where acoustic units would not be suitable due to background noise, such as heritage buildings and buildings with asbestos where it is vital not to disturb the fabric of the building, whilst ensuring the safety of occupants in the event of a fire. It's important also to ensure that radio controlled fire door safety products such as free-swing door closers and door holders are suitable for Category A installations, the safest installation defined by BS7273-4; these products are approved for all areas of a building including main fire escape routes.
One example of this is the Salamander range of radio controlled fire door safety products which has all the benefits of hard-wired electromagnetic door retainers and closers, but as the devices are wire-free, they are quick and easy to install, saving time, installation costs and disruption to a building's fabric or its occupants. The Salamander free-swing door closer and door holder are suitable for Category A installations, the safest installation defined by BS7273-4; the products suit all areas of a building including main fire escape routes.  They are also approved to EN1155 and CE marked.
< Back to Articles